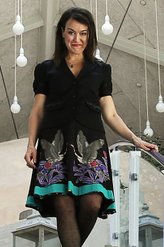 Isabel Piganiol - sopran
Half french and swedish from birth, this artist/singer and earlier oboist, came to Denmark in 1992 to pursue her education as an operasinger. Initially at the Royal Danish Conservatory of Music and then further on, at the Royal Danish Opera Academy.
During her years at the Royal Danish Opera Academy, she interpreted the roles of Nerone (L'Incoronazione di Poppea), Siebel (Faust), Mimí (Bohème), Desdemona (Rossinis Otello), Zerlina and in 2000 she was laureate at the international singingcompetition of Maria Canals, in Barcelona.
With her very flexible, colourful voice and sense for improvisation, Isabel Piganiol's repertoire stretches from early baroque music to contemporary modern music. Her dramatic strength has been used in various shows, such as "Fantomer", at Statens Museum for Kunst=The State's Museum of Art, Copenhagen… and in the summer of 2008 she gave the role Cherubino a new feminine and revolutionary character together with the swedish instructor Leif Adolfsson, Ystad Opera, Sweden.
In 2009 she sings Anna in a new piece ( "De syv dyders hus") by the danish composer, Torben Kjær, on various scenes in DK and on tour, also singing Dinah in Leonard Bernsteins beautiful "Trouble in Tahiti".
Her interest in modern music has its roots in studying with, amongst others, contempory Swiss composer Otto Graf , who also wrote music specially for her. Isabel Piganiol also interpreted the leading role in Danish composer Eva Noer Kondrup's opera "Neja" at Den Anden Opera, Copenhagen.
In 2005 she sang the role as the Mother in the "Operaverkstan"-company's (Malmö Opera, Sweden ) setting of "Kasper Rosenröd".
Isabel Piganiol has worked for many opera companies such as Ad Hoc, Den Ny Opera, Nordjysk Operakompagni,Exart, Malmö Operahouse, Opera Comique (DK), Ystad Teater, Holstebro Musikdramatisk Teater, Operakompagniet, Øresundsoperaen and is a frequently used concert soloist in Denmark .
In 2010 she sang Marguerite in Berlioz's "La damnation de Faust" in Singapore, with Singapore symphony orchestra and the same year the role of Elvira in Operassion's setting of "Don Giovanni" in Ludwigsburg, Germany. In 2011 she sang and acted the main part in "Forår I København" by Sejer Andersen and composer Pierre Dørge. In 2012 she interpreted the role of Mercedes in "Angelo" by composer Lars Klit and toured with "Nordic Sopranos" and "Øresundsoperaen" in Scandinavia and Croatia.
In 2013 she sang Violetta in Nordic Operas production of Verdis "Traviata", Sofie in a re-production of "Monster Opera" in Ishøj Teater and on tour in Jotland, 6 New-Years Eve concerts with Nordic Sopranos and Ålborg symphonic orchestra.
In 2014 she sings the title role in Puccinis "Tosca" at the Ålborg Opera Festival, Tora in Nordic Operas production of a contemporary opera "The deepest spot in the North sea" by Daniel Hjort, on tour in Sweden and Denmark ( also in Iceland and the Faroe Islands in 2015)
In autumn 2014 awaits the title role in Puccinis "Tosca" again, this time produced by Teater Undergrunden.